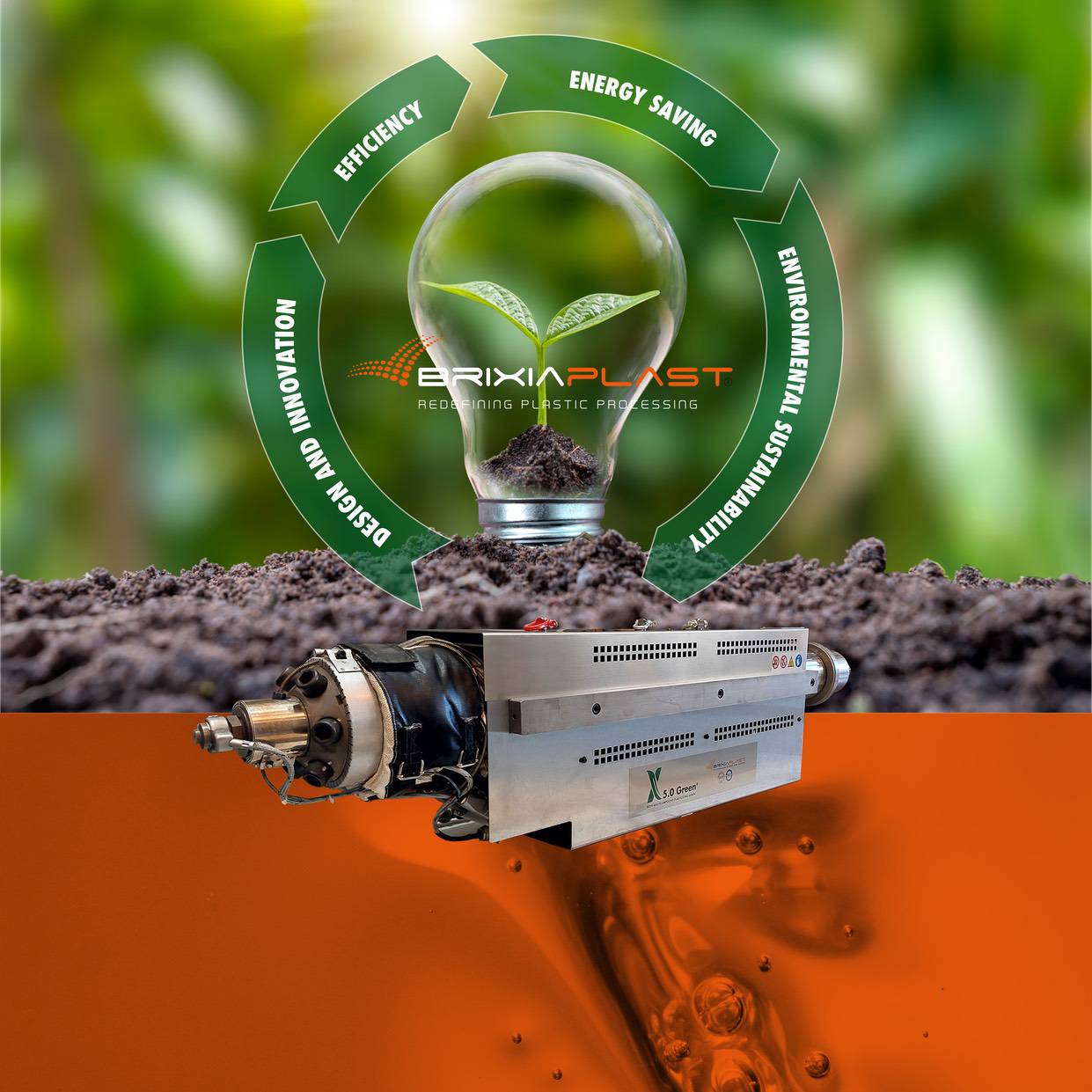 GREEN

IN THE PROCESSES.

PERFORMING

IN SAVINGS
Sustainability, efficiency and savings are fundamental issues that direct new entrepreneurial strategies towards new horizons and new perspectives.
"How can the components of the laminating group contribute to energy saving and the optimization of production processes?" This is a question that we asked ourselves, and which led to what is today the flagship of the BRIXA PLAST offer, the Green Module.
A performing and efficient solution, as well as highly customizable, the GREEN MODULE is a complete plasticizing unit, to which all the electrical and mechanical components are added that make it ready for installation.
The benefits that can be obtained, in terms of ENERGY SAVING and PRODUCTIVITY, are given by the combination of various factors: high quality materials, use of the latest generation components and in particular the high performance MultiCompound screw.
Brixia Plast supplies complete, wired, ready-to-install laminating units, complete with manual. This is an optimal solution to reduce downtime and simplify the assembly of the new one
group.
La rete di tecnici e tecnologi Brixia Plast è in grado di offrire, in tutto il mondo, il servizio di montaggio e avviamento dei gruppi di plastificazione, accompagnando il cliente dunque non solo nella mera sostituzione di parti meccaniche, ma fino all'ottimizzazione del processo di stampaggio stesso.
The experience of the technical office , in collaboration with a team of process technologists, allows to develop and redesign special plasticizing groups, dedicated to the multiple needs of customers: increase or reduce the injection volume, increase or reduce the L / D ratio, and any solution that can solve customer problems. We develop solutions capable of optimizing the molding process , from increasing productivity, to reducing waste, to improving quality , without forgetting economic and energy savings.
Brixia Plast offre la possibilità di completare i gruppi di plastificazione con sistemi di coibentazione completi, altamente efficienti e in grado di ottenere performance di elevato risparmio energetico.
ITALIANO CONFRONTO CONSUMO ENERGETICO Ita
| DESCRIZIONE | kWh / TURNO | Turni / ANNO | MWh / ANNO | € / ANNO |
| --- | --- | --- | --- | --- |
| UNITÀ STANDARD | 101 | 720 | 72,72 | 18.907,20 € |
| MODULO GREEN Brixia Plast | 89 | 720 | 64,08 | 16.660,80 € |
| RISULTATI | -12 | - | -8,64 | -2.246,40 € |
ITALIANO CONFRONTO PRODUTTIVITA' Ita
| DESCRIZIONE | PEZZI / TURNO | kWh / TURNO | Wh / PEZZO | % PEZZO |
| --- | --- | --- | --- | --- |
| UNITÀ STANDARD | 1.476 | 101 | 68,428 | |
| MODULO GREEN Brixia Plast | 1.745 | 89 | 51,003 | |
| RISULTATI | +269,00 | -12,00 | -17,43 | -25,47% |
ITALIANO CONFRONTO EFFICIENZA (1 ANNO)
| DESCRIZIONE | kWh / ANNO | PEZZI / ANNO | kWh / PEZZO |
| --- | --- | --- | --- |
| UNITÀ STANDARD | 72,72 | 1.062.720 | 68,428 |
| MODULO GREEN Brixia Plast | 64,08 | 1.256.400 | 51,003 |
| RISULTATI | -8,64 | +193.680 | -17,425 |
ITALIANO CONDIZIONE 1
IL MERCATO PUÒ "ASSORBIRE" IL SUPRLUS PRODUTTIVO, SI PRODUCE A MASSIMO REGIME
PREZZO VENDITA (IPOTETICO): € 0,10
| DESCRIZIONE | PEZZI / ANNO | ENTRATE / ANNO | ENERGIA / ANNO |
| --- | --- | --- | --- |
| UNITÀ STANDARD | 1.062.720 | 106.272 € | 18.907 € |
| MODULO GREEN Brixia Plast | 1.256.400 | 125.640 € | 16.661 € |
| RISULTATI | +193.680 | +19.368 € | -2.246 € |
ITALIANO CONDIZIONE 2
IL MERCATO NON PUÒ "ASSORBIRE" IL SUPRLUS PRODUTTIVO, SI PRODUCE A MASSIMO REGIME
PREZZO VENDITA (IPOTETICO): € 0,10
| DESCRIZIONE | PEZZI / ANNO | TURNI / ANNO | MWh / ANNO | € / ANNO |
| --- | --- | --- | --- | --- |
| UNITÀ STANDARD | 1.062.720 | 720 | 72,72 | 18.907 € |
| MODULO GREEN Brixia Plast | 1.062.720 | 609 | 54,2 | 14.092 € |
| RISULTATI | - | -111 | -18,52 | -4.815 € |